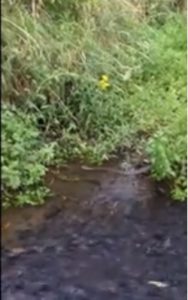 This really cheered me up after a summer of destruction and despair
Story, image and video by Dan Musil
Here I was, for a little (too rare) walk and search for trout in the lovely Morwell National Park, not too far off the Grand Strzelecki Track, when I met this stunning little tiger snake, who I think was also on the hunt, probably for frogs(?). Thanks to some welcome above-average January rain, the creek was flowing really well, and this beautiful banded friend was just so mesmerising in its swims up and down the creek and around my feet, I had to capture some on my phone (though, excited Dan did this in portrait mode…saaarry). And so taken I was, at a friend's suggestion I slapped together a quick take of a slide guitar track inspired by these snake times. I hope you enjoy this snapshot as much as I did, and that it gives you hope like it does me.
This little part of the Morwell National Park was pretty barren ex-farmland only a couple of decades ago, but thanks to some legendary volunteers (Friends of Morwell National Park) who replanted it (and with Parks Victoria, continue to maintain it), it is now a precious bit of habitat for slippery friends like this, as well as heaps of koalas, lyrebirds, wombats, wallabies, echidnas, eels, congoli (and yes, the odd trout), and lots of other mates I often see on my wanders there, and the park connects some priceless patches of remnant rainforest and older bush.
Life has a wonderous capacity to keep keeping on, aided (or not) at times by our efforts no doubt. Here's to making sure we find ways to exist, that better allow all of us to keep keeping on together.
Watch my video below (with sound on).
#Morwell

 

#Tigersnake

 

#CarnTheMightyMorwellTigers

 

#Hope

 

#SnakesRCool

 

#ImprovisedCinematicSlideGuitar
Thank you Dan for sharing your experience.
Story and video published with permission by Dan Musil (Dan Musil Music).