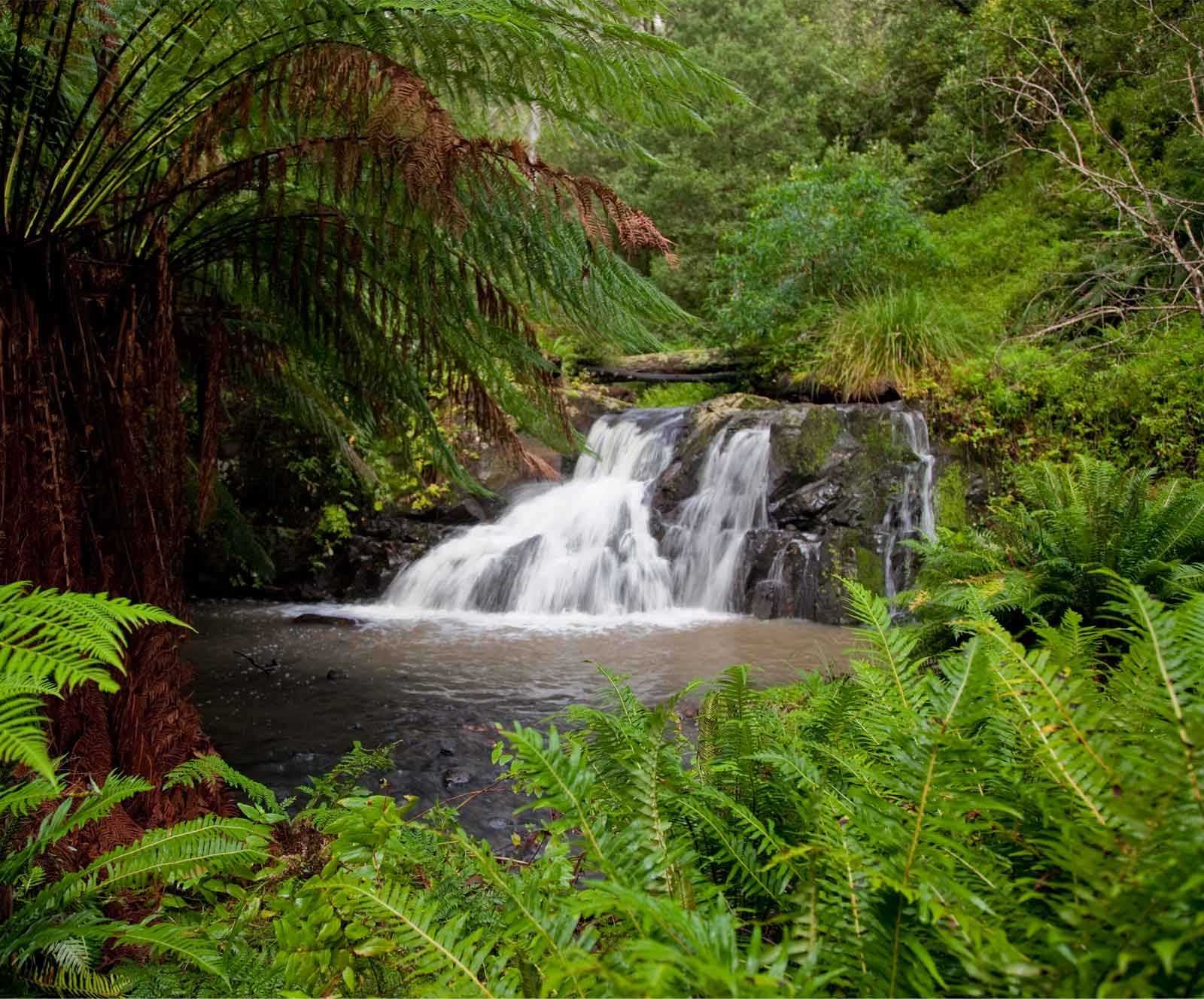 INFORMATION FOR WALKERS
While many parts of The Grand Strzelecki Track are graded easy to medium, other parts are challenging and require a degree of fitness and experience. Overall, the Track is Class 4 under the Australian Standard which means that some parts are narrow foot track with minimal infrastructure provided, requiring self-sufficiency, navigation skills (although it is generally well marked) and responsibility for your own safety. Please read the protocols and study the map notes before commencing your walk and plan accordingly. Billys Creek and Macks Creek are unsuitable for mountain bike use.
There are four possible entry points to start your walk; Morwell National Park (Junction Road car park), Balook (Tarra Bulga National Park Visitors Centre car park), Tarra Valley Picnic Area car park and Macks Creek Hall. The 'Park to Park' walk is 26.5 km, with a further 9.5 km to reach accommodation facilities. This will take two days, with an overnight stop at Jumbuk Rest Area half way. The eastern section of the Track can be walked in three complete loops of 1-2 days each, starting and finishing in Balook. The Mt. Tassie Loop (18.3 km), the Macks Creek Loop (25.2 km or 23.7 km depending on choice of route) and the Tarra Valley Loop (22.9 km with an optional link to Tarra Valley accommodation areas, 2.1 km each way). Alternatively, you could walk these loops as a continuous circuit of 3-5 days, exploring a variety of short rainforest walks, waterfalls, picnic areas, the popular Corrigan's Suspension Bridge and the Tarra Bulga National Park Visitors Centre along the way.
Anyone planning an extended walk should be well prepared with walking maps. The free downloadable map is suitable for route planning only, NOT FOR NAVIGATION. You can purchase a set of topographical maps through our shop page or from the Tarra Bulga National Park Visitor Centre at Balook (open weekends, school holidays and public holidays 10am-4pm, except from after the Queen's Birthday holiday to the start of the September school holidays 10am-3pm), Tarra-Bulga Guest House, Tarra Valley Caravan Park or tourist information centres in Traralgon and Yarram
FACILITIES
Jumbuk Rest Area along the 'Park to Park' walk and Pattison's Rest Area in Balook can be used as day or overnight stops with no fee. They have a toilet, water, shelter and picnic table (please sterilise the water for drinking). We are still fund-raising to build facilities at Macks Creek.
The Tarra Bulga Guest House at Balook offer their grounds as a camp site for a small fee, with access to a shower, toilet and drinkable water. If you are walking the track call in for great food and coffee. You can contact them on 61 3 5196 6141.
The Tarra-Bulga National Park Visitor Centre in Balook has public toilets and non-drinkable water (please sterilise water for drinking). Parks Victoria do not encourage camping on park grounds.
Camping is available at Fernholme Caravan Park in Tarra Valley. Powered and unpowered tents sites, and cabins, are available, with access to the camp kitchen, laundry, showers, toilets, water and firewood. However, they require prior booking. Please phone Vicki and David on 61 3 5186 1283.
There are no facilities elsewhere, so if you are planning to camp elsewhere please come prepared with water and something to bury toilet waste.
ACCESS AND TRANSPORT
The 'Park to Park' section starts at Junction Road, Jeeralang Junction, about 5 km south of Churchill. Churchill is approximately 2 hours drive east of Melbourne via the Princes Freeway (watch for the Churchill and Federation University exit). If travelling by train on V/Line from Melbourne or Orbost, there is Latrobe Valley Bus Service to Churchill from Morwell Railway Station. Alternatively, a car hire can be made at Traralgon through Budget, Hertz and Avis Car Rentals.
At the eastern end of the Track, the three loop walks radiate from the township of Balook, where the Tarra Bulga National Park Visitor Centre is located. This network can also be accessed from Tarra Valley accommodation area, Tarra Valley Picnic Area within the Tarra Bulga National Park or the Macks Creek Hall. Public parking is available at all of these places except the Tarra Valley accommodation area (unless you are a patron).
If travelling to Balook, continue until the exit sign to Yarram, then at the Loy Yang Power Station traffic lights turn right following the brown tourist signs to Tarra Bulga National Park and Balook. Balook is 2.5 hours east of Melbourne via the Princes Highway or 3 hours via the South Gippsland Highway to Yarram, following the signs north through Tarra Valley. The Traralgon-Balook Road from Loy Yang and the Tarra Valley Road from Yarram are bitumen, other roads are gravel. Macks Creek Hall is 15 minutes north of Yarram with gravel for the last 2 km.
There is no train service to Yarram but V/line run regular coach services from Melbourne to Yarram. There is also a bus service between Traralgon Railway Station and Yarram.
ACCOMMODATION
We suggest the following facilities which are located on, or in close proximity to, The Grand Strzelecki Track. There are many other options available in nearby centres including Yarram and Traralgon, with other limited options available in Tarra Valley.
Churchill : Churchill Hotel. Phone +61 3 5122 1800 www.churchillhotel.com.au
Balook : Tarra Bulga Guest House & Lyrebird Cafe. Phone +61 3 5196 6141 www.tarra-bulga.com
Tarra Valley : Tarra Valley Caravan Park 'Fernholme'. Phone +61 3 5186 1283 www.tarravalley.com.au
Macks Creek : Glenwood Farm Holiday Cottage (B&B). Phone +61 3 5186 1310 www.glenwoodfarm.com.au
Macks Creek Hall : Group hire at $100 per night, with access to toilets, water and cooking facilities. Phone (Vicki) +61 3 5186 1225 or (Jenny) +61 3 5186 1340  mackscreekhall@gmail.com
OTHER SERVICES
Mini bus tours and transport (minimum 28 seats) : Mountain-Top Experience. Phone +61 3 5134 6876 www.mountaintopexperience.com
MAP INFORMATION
Free maps of the overall Track network are intended for route planning only.  They are not suitable for navigation and do not show all the necessary information or features of interest, so we strongly suggest you purchase our topographic maps before embarking on walks to make your experience as safe and rewarding as possible.  All proceeds from sales go towards maintaining the track and providing better facilities.
The second (2016) edition of our printed walking maps is available for sale from this website (see our 'Shop/Products' page) or from local outlets (Tarra Bulga Guest House, Tarra Valley Caravan Park, Tarra Bulga National Park Visitors Centre and Latrobe Visitor Information Centre in Traralgon and the Yarram Tourist Information Centre).  There are 6 maps in the set, including an overall map and 5 topographical (detailed) maps covering each section of the network.
These topographic maps feature improved accuracy, current information on facilities and features of interest, protocols for track users, track notes, elevation graphs and a selection of beautiful photographs that will be a nice souvenir of your walk.
PDF maps for use on mobile devices with GPS capability are also available. Download the free Avenza PDF Maps app (from their web page or the app store), then search for Grand Strzelecki Track in the Avenza map store. Since the maps are stored within the app on your phone or other device, you do not need a mobile phone signal to use them.  Just download before you start your walk and you're ready to navigate.
The app works on Apple or Android systems.  Since the scale and size of PDF maps is a lot more flexible than a printed map we have condensed the 5 section maps into two large maps; Grand Strzelecki Track West 'Park to Park' walk and Grand Strzelecki Track East Loop Walks.  The West map covers Morwell National Park to Tarra Bulga National Park and Balook and the East map covers the three loop walks (Mount Tassie, Macks Creek and Tarra Valley) with Balook at the centre. Pricing is comparable to the printed map set but if you're only walking the east or west part of the network you can purchase the relevant map by itself at half the cost of the full map set.
The PDF maps have all the information and features of the printed versions, with exception of the photographs.
When you open the app and select the map you want, a blue dot will appear showing your location based on your GPS position. The dot follows your progress as you go, so you always know where you are. Your coordinates are also shown at the bottom of the screen so in an emergency you can identify your exact position and even send a screen shot of the map with your location on it. You can zoom right in to view any section of the map in great detail, or out to any scale for viewing the overall route and information. There are many other functions available, including creating waypoints with notes and even attaching photos to these points so you can identify where your happy snaps were taken.
We have tested the Avenza App and maps, and they work anywhere, and with accuracy ranging from a few metres where the GPS signal is strong to within 20m in deep gullies under tree canopy. You should always be able to find the track again if you lose it, which will greatly improve safety in remote areas where the track may get overgrown or where markers may be missing or hidden by vegetation.
Using the Avenza app continuously on an iPhone will drain the battery in about 4 hours. The only time you really need to use it is when you're uncertain about your location, want to identify which route to follow or wish to use features such as waypoints. If walking and camping for several days it might be worthwhile taking a spare battery or external charger pack.
THERE IS A NO CAMPFIRE POLICY ON THE GRAND STRZELECKI TRACK AT ALL TIMES
Persons sighted or caught lighting a campfire will be reported and may face arson offences.