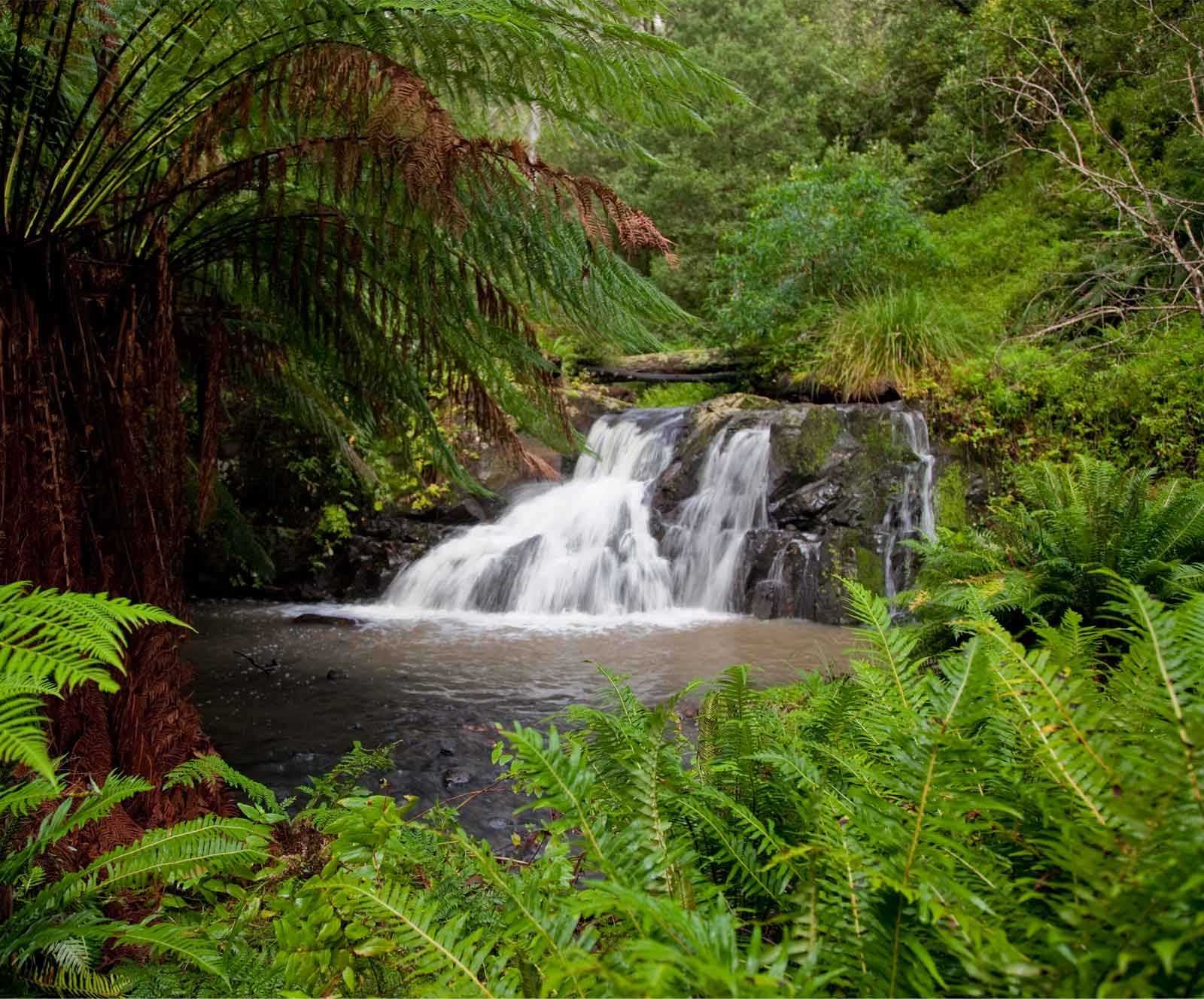 INFORMATION FOR WALKERS AND HIKERS
While many parts of The Grand Strzelecki Track are graded easy to medium, other parts are challenging and require a degree of fitness and experience. Overall, the Track is Class 4 under the Australian Standard which means that some parts are narrow foot track with minimal infrastructure provided, requiring self-sufficiency, navigation skills (although it is generally well marked) and responsibility for your own safety. Please read the Track Protocols and study the map notes before commencing your walk and plan accordingly. Billys Creek and Macks Creek are unsuitable for mountain bike use.
There are four possible entry points to start your walk: The west section at Morwell National Park (Junction Road car park), Balook (Tarra Bulga National Park Visitors Centre car park), Tarra Valley Picnic Area car park and Macks Creek Hall.
THE WALKS
1. Mack's Creek Loop (2 Days) from the Tarra Bulga NP Visitor Centre via Lyrebird Ridge-Forest track to Wild Cherry Track, then camp at Macks Creek Hall and return each day approx 14kms / 5-6hrs per day.
2. Tarra Valley Loop (1 Day) from Tarra Bulga NP Visitor Centre via Old Yarram Road, cross over Bulga Park Road onto Diaper Track to Cyathea Falls and Tarra Falls, then Mountain Hickory Track and Goombala Road back to Visitor Centre and drive 3km to camp at Pattison's Rest Area approx 20km / 6-7 hours.
3. Mount Tassie Loop (1 day) from Visitor Centre via Diffs Sawmill, Mount Tassie, Link Track, West Face Track and Drysdale Road back to Visitor Centre approx 18km / 5-6 hours.
4. Park-park via Billys Creek and Jumbuk Rest Area (2 days) 27km / 11-12 hours each way. Visitor Centre to Jumbuk Rest Area 4-5 hours then to Morwell NP 6-7 hours and return to Visitor Centre.
A must do from the Tarra Bulga NP Visitor Centre is the walk to Corrigans Suspension Bridge (20 minutes), then from the bridge both Ferngully Walk rainforest (15 minutes) and Scenic Track (30 minutes) back to the Visitor Centre.
CARING FOR OUR ENVIRONMENT
The three loop tracks and park-park track enter parts of Tarra Bulga and Morwell National Parks, which both have a Parks Victoria policy not permitting cats, dogs, horses, firearms, campfires or generators within the park. Use of drones requires a Parks Victoria permit.
FREE AND PAID CAMPING AND ACCOMMODATION
NOTE: Camping is not encouraged at the Tarra Bulga National Park Visitor Centre in Balook with access to public toilets and non-drinkable water (please sterilise water for drinking).
FREE CAMPING
JUMBUK, BALOOK AND MACKS CREEK CAMPING REST AREAS
Jumbuk Rest Area along the 'Park to Park' walk and Pattison's Rest Area in Balook can be used as day or overnight stops with no fee. They have a toilet, water, shelter and picnic table (please sterilise the water for drinking). Macks Creek Rest Area and Morningside Rest Area do not have any facilities.
PAID CAMPING AND ACCOMMODATION
BALOOK CAMPING AND ROOM ACCOMMODATION
Camping and room accommodation is available at the Tarra Bulga Guest House in Balook with access to a shower, toilet, drinking water and firewood.
Phone +61 3 5196 6141 www.tarra-bulga.com
TARRA VALLEY CAMPING AND CABIN ACCOMMODATION
Camping and cabin accommodation is available at the Tarra Valley Caravan Park 'Fernholme' in Tarra Valley with powered and unpowered tents sites and cabins with access to camp kitchen, laundry, showers, toilets, drinking water and firewood.
Phone +61 3 5186 1283 www.tarravalley.com.au
MACKS CREEK CABIN AND ROOM ACCOMMODATION
Cabin accommodation is available at Glenwood Farm Holiday Cottage (Bed and Breakfast) located off Bulga Park Road along the Macks Creek Track Loop.
Phone (Julie) 0438 952 602 or (Steve) 0428 825 900 www.glenwoodfarm.com.au
Room accommodation is available at Macks Creek Hall for group hire at $100 per night with access to toilets, water and cooking facilities.
Phone (Vicki) +61 3 5186 1225 or (Jenny) +61 3 5186 1340 mackscreekhall@gmail.com
There are no facilities elsewhere, so if you are planning to camp elsewhere please come prepared with water and something to bury toilet waste. Otherwise, we suggest Traralgon, Yarram and Churchill accommodation within close proximity to The Grand Strzelecki Track.
ACCESS AND TRANSPORT
The 'Park to Park' section starts at Junction Road, Jeeralang Junction, about 5 km south of Churchill. Churchill is approximately 2 hours drive east of Melbourne via the Princes Freeway (watch for the Churchill and Federation University exit). If travelling by train on V/Line from Melbourne or Orbost, there is Latrobe Valley Bus Service to Churchill from Morwell Railway Station. Alternatively, a car hire can be made at Traralgon through Budget, Hertz and Avis Car Rentals.
At the eastern end of the Track, the three loop walks radiate from the township of Balook, where the Tarra Bulga National Park Visitor Centre is located. This network can also be accessed from Tarra Valley accommodation area, Tarra Valley Picnic Area within the Tarra Bulga National Park or the Macks Creek Hall. Public parking is available at all of these places except the Tarra Valley accommodation area (unless you are a patron).
If travelling to Balook, continue until the exit sign to Yarram, then at the Loy Yang Power Station traffic lights turn right following the brown tourist signs to Tarra Bulga National Park and Balook. Balook is 2.5 hours east of Melbourne via the Princes Highway or 3 hours via the South Gippsland Highway to Yarram, following the signs north through Tarra Valley. The Traralgon-Balook Road from Loy Yang and the Tarra Valley Road from Yarram are bitumen, other roads are gravel. Macks Creek Hall is 15 minutes north of Yarram with gravel for the last 2 km.
There is no train service to Yarram but V/line run regular coach services from Melbourne to Yarram. There is also a bus service between Traralgon Railway Station and Yarram.
Mini bus tours and transport (minimum 28 seats) is available through Mountain-Top Experience. Phone +61 3 5134 6876 www.mountaintopexperience.com
THERE IS A NO CAMPFIRE POLICY ON THE GRAND STRZELECKI TRACK AT ALL TIMES
Persons sighted or caught lighting a campfire will be reported and may face arson offences.