MAPS ARE SUBJECT TO COPYRIGHT, RESTRICTIONS AND PROHIBITIONS ON USE AS STATED BELOW.
PLANNING MAP – DIGITAL DOWNLOAD
A lower quality Planning Map can be found in 'Discover Your Walk' on the Home page.
A higher quality Planning Map can be purchased from our shop as a digital download.
It is a great starting point for understanding the various tracks, distances and facilities. If you want more topographical and accurate detail about the terrain, grade of difficulty, distance markers and facilities, choose to purchase georeferenced topographical maps for a mobile device and/or the topographical hiking maps.
UPON PURCHASE, A DOWNLOAD LINK WILL BE IN YOUR COMPLETED ORDER BY EMAIL AND VALID FOR ONLY 48 HOURS.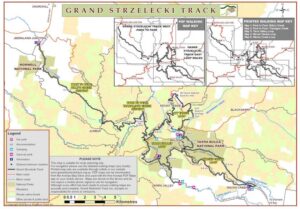 GEOREFERENCED TOPOGRAPHICAL MAPS FOR MOBILE DEVICE – DIGITAL DOWNLOAD
East and West section (loop walks) georeferenced topographical maps can be purchased from our shop.
A map navigation app such as Avenza will need to be installed on your mobile device to properly use these maps.
The East map covers the three loop walks (Mt. Tassie, Tarra Valley and Macks Creek) and the West map covers Morwell National Park to Tarra Bulga National Park and Balook, via the Jumbuk Rest Area (known as the 'Park to Park' walk). You can set waypoints.
UPON PURCHASE, A DOWNLOAD LINK WILL BE IN YOUR COMPLETED ORDER BY EMAIL AND VALID FOR ONLY 48 HOURS.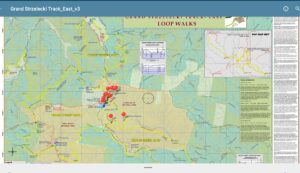 TOPOGRAPHICAL HIKING MAPS – SET OF 6 PRINTED AND POSTED
The second (2016) edition of our souvenir map set consists of a planning map and five topographical hiking maps can be purchased from our shop as printed material that is posted to you. These topographical hiking maps are primarily for navigation whilst hiking and identifying features along the way, although they do facilitate planning as well.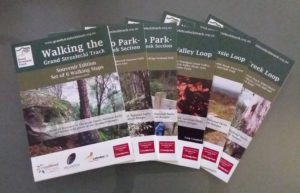 Please see the 'Information for Walkers' and 'Discover Your Walk' pages as we urge you to be well prepared with these maps if planning an extended walk.
100% of the revenue from map sales contribute to the maintenance and development of the Track.
Copyright
Our maps are protected under applicable copyrights, trademarks and other proprietary (including but not limited to intellectual property) rights. The copying, redistribution, use or publication by you is strictly prohibited. You do not acquire ownership rights.
Restrictions and Prohibitions on Use
Your purchase and use of our maps are subject to the following restrictions and prohibitions on use: You may not (a) copy, republish, sell, lease, loan, transmit or otherwise make available in any form or by any means all or any portion of our maps or any content retrieved there from; (b) use of our maps to develop, of as a component of, any information, storage and retrieval system, database, information base, or similar resource (in any media now existing or hereafter developed), that is offered for commercial distribution of any kind, including through sale, license, lease, rental, subscription, or any other commercial distribution mechanism.