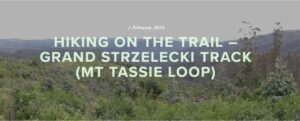 Story and images by Matt King
I recently decided to take advantage of a rare free weekend during crazy festive season and head out hiking and undertake a section of the Grand Strzelecki Track, Mount Tassie Loop.
This particular section of the Grand Strzelecki track starts in Balook at the edge of the Tarra Bulga National Park, approximately 2.5 hrs drive from Melbourne.
I commenced the hike from Tarra Bulga Visitors Centre and headed along the Telecom Track which was quite wet under foot from the recent rain and muddy in a couple of sections, but picturesque nonetheless with beautiful Tall Ash trees and ferns.
After a short distance, I arrived at the Drysdale Road turn off, where you can either continue straight on and complete the out and back trail via the Duff Sawmill Heritage Trail or complete the circuit via heading clockwise in a westerly direction down Drysdale Road, there is are couple of short steep sections as you travel past some plantation forest land and enjoy some scenic views of the valley.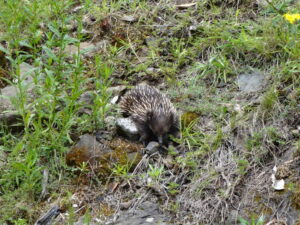 Echidna
The trail continues onto the West face track, a well-maintained fire trail which offers beautiful views to Mount Tassie and is a steady climb towards the peak. I enjoyed seeing an echidna beside a local waterfall. There is a short steep section towards the summit along single track once at the top, enjoy lunch at the picnic tables while appreciating the endless views across the local valleys and beyond.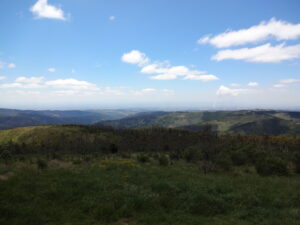 After lunch, I continued along the top of Mount Tassie to Callignee South Road where you get to admire the Historic Tree Stumps, then connecting up with the Duff Sawmill Heritage Trail and through the local pine plantation and into blackwood forest, admiring the old Eucalypt trees along the way.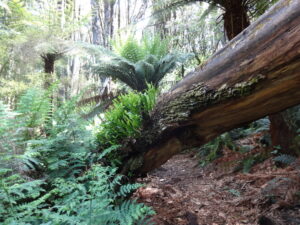 I eventually re-joined Drysdale Road where I initially turned off to start the circuit. I headed back down the Telecom Track but instead of heading back directly to the Visitors Centre I veered off to take in the Scenic Track to enjoy amazing Suspension Bridge.
I thoroughly enjoyed the hike along the Grand Strzelecki Track and in the Tarra Bulga National Park. All the hike was approximately 21km. I decided to camp the Saturday night in a local caravan park to the enjoy the local surrounds and dinner in Yarram. I look forward to getting back to down to explore more sections of the track sometime in the future.
Thank you Matt for sharing your experience.
Story and images with permission by Matt King @Onthetrail
http://www.onthetrail.com.au/blog/2016/2/2/hiking-on-the-trail-grand-strzelecki-track-mt-tassie-loop