Richard's Story – 7km Quickie on Road 57 to the old track to Yerrang Falls 2020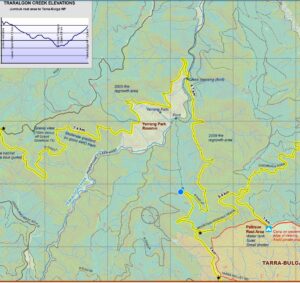 Although I have done the three loop hikes from Tarra Bulga NP in the eastern section of the Grand Strzelecki Track many times, I have not done any section of the Park-To-Park in the western section. This section links Tarra Bulga NP and Morwell NP. It starts at Goombala Road opposite the Pattison Rest Area, onto Mountain Hickory Track, as does the Tarra Valley Loop, then heads to Morwell NP via Road 57, Road 31 and Billys Creek via the Jumbuk Rest Area.
My plan today was of interest to see if the old track that leads to the Yerrang Falls at the reserve was accessible from Road 57 about 1km from Mountain Hickory Track instead of much further down at Traralgon Creek Road. It is a short cut to Traralgon Creek Road off the Track and therefore would not be signposted, nor probably recommended. I did however carry my tablet with the georeferenced western section map just in case. I was keen to determine how long it would take to reach the Yerrang Falls as I estimated about 4 to 4.5 hours each way, but keeping in mind that it now gets dark around 5.15pm.
Unfortunately, I got held up for a late start this morning and that time would now only allow me to get to the junction on Road 57 where the old track to Yerrang Falls starts. I was still keen to head out there and to save some time, I parked my car near Pattison Rest Area instead of at the Tarra Bulga NP Visitor Centre car park.
Heading off at 10:50am, it took one hour at a good steady pace to reach the junction as it descended gradually, and a further down, more steadily. Although the track also appears very wide and accessible, I made the decision to not hike beyond this junction too far as it continued to descend more steadily meaning not getting back to my car at a slower pace until near or fully dark. I headed down a couple of hundred metres before doing a turnaround.
Junction of Road 57 and old track to Yerrang Falls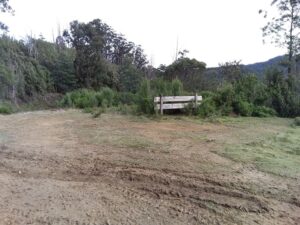 Although I have hiked Goombala Road and Mountain Hickory Track many times on the Tarra Valley Loop, I was surprised how once on Road 57 that it opened up with vistas of Latrobe Valley and Mount Tassie in the distance. All of this area had been impacted by the Black Saturday Bushfire in 2009, and while many trees are still blackened, many others have died. There is a vast area of regrowth to be seen along Road 57 as the views widen.
Vistas along Road 57 and regrowth from 2009 Black Saturday Bushfire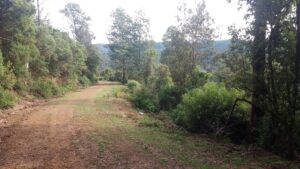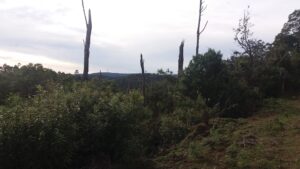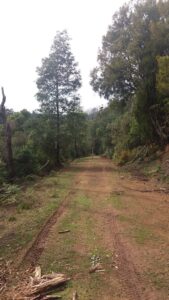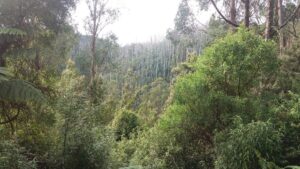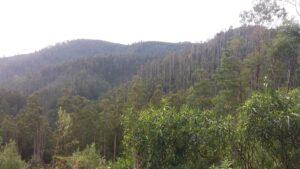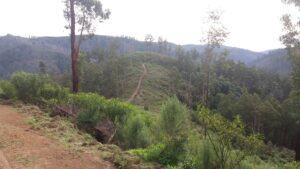 Interesting to see the fog in the Latrobe Valley from such a distance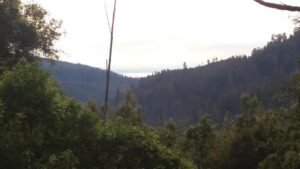 Remnant burnt trees from 2009 Black Saturday Bushfire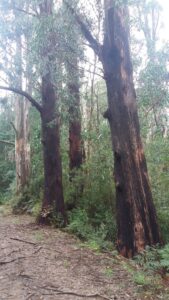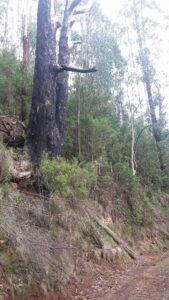 Despite four-wheel drivers being on the tracks causing ruts and pooling of water, hiking on these tracks in this Park-To-Park section are definitely worthy of experiencing the terrain, trees, vistas, birdsong and tranquillity.
Terrain along Goombala Road and Mountain Hickory Track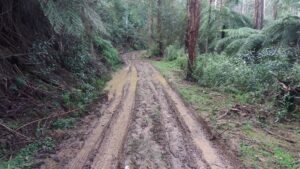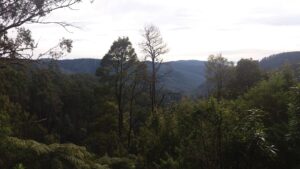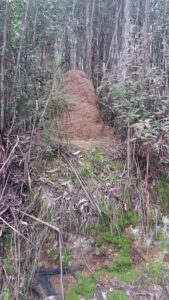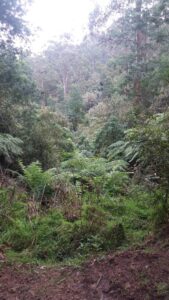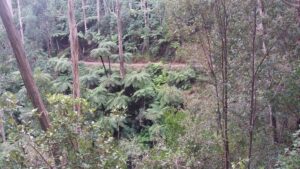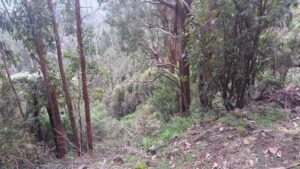 Songbird of the Eastern Whip Bird
I will attempt to head out to the Yerrang Falls next weekend and add some more story and photos.
Once Covid-19 restrictions on the use of shared facilities is lifted, and with longer daylight hours, I will complete the hike all the way to the Jumbuk Rest Area with more to show and tell.
Story and images with permission from Richard Florey