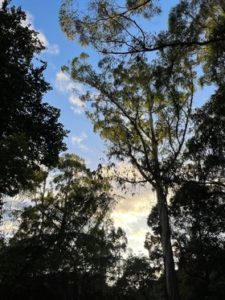 In preparation for an event in a couple of weeks up at Mt Buller where I will cover 100km in 2.5 days, I have been doing lots of kms and in planning my final hit out for this weekend, I wanted to double check I haven't missed any trail closures. I contacted Grand Strzelecki Track with my proposed itinerary for any feedback.
On day 1 (Friday), I planned about 30-35km starting and finishing at Fernholme (Tarra Valley Caravan Park) following the Tarra Valley Link Track, Diaper Track and Great Forest Walk up to Balook, then out to Drysdale Road, Goombala Road, Duncan's Track, Butlers Track, and back onto Great Forest Walk, Diaper Track and Tarra Valley Link Track back to Fernholme (using Map 3 – Tarra Valley Loop). I was advised that the Tarra Valley Link Track was not cleared as yet, so I may bypass it using Tarra Valley Road to Diaper Track.
On day 2 (Saturday), I planned about 25-ish km starting at the Tarra Valley Picnic Area Carpark where Cyathea Falls is located and following Diaper Track to Balook to start the Mount Tassie Loop (Map 4 – Mount Tassie Loop), noting the Duff Sawmill Heritage Trail closure and then back to the Tarra Valley Picnic Area Carpark).
On day 3 (Sunday), I planned about 20km starting from the Tarra-Bulga NP Visitor Centre carpark doing the Mount Tassie Loop again, but in reversed, and the some extra kms around Corrigan's Suspension Bridge. I also plan to head out at about 5am-ish each day carrying a full pack with first aid, wet and warm gear, nutrition and a Personal Location Beacon (PLB).
The feedback I received confirmed track conditions and in greater detail the tracks and roads I will be following.
Despite the weather, I have had the best few days covering about 76km on the Grand Strzelecki Track! With my maps and the feedback received, here is my story to share with fellow hikers.
Despite the horrid conditions when leaving Melbourne on Thursday evening, I arrived to have clear weather at Fernholme that night. The original plan was to camp out in a small tent or swag but with priority being to cover lots of kms in the days to come, I opted for a cabin and thankfully, the owners Dave and Vicki, could accommodate. Originally, I intended to commence all hikes by 5am, but given the weather and the rare opportunity for uninterrupted sleep, I chose a more civilised start time of 7am.
Day 1 (Friday) was 31km on the Tarra Valley Loop.
Having previously traversed the Tarra Valley Link Track from Fernholme to Diaper track, I opted to use Tarra Valley Road to the start of Diaper Track. I love a challenge but an overgrown Tarra Valley Link Track in the wet on my own sounded a bit risky, so I took a safer option, reminding myself that the purpose of this trip was lots of kms and not to break myself.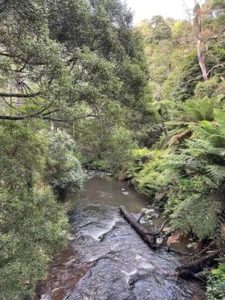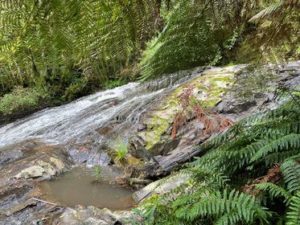 Following the Diaper Track, the morning was quite sweet. Lyrebirds, wallabies, little waterfalls, was overall quite pleasant but it was quite wet underfoot with a lot of debris (bark, branches, sticks) following the wind and a bit overgrown in places. I was thankful for my leech preparation and didn't catch any on the traverse up to Balook.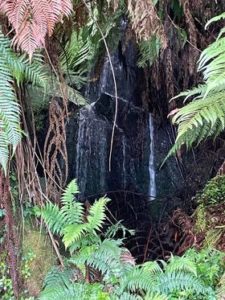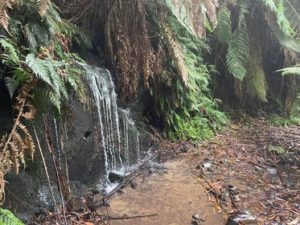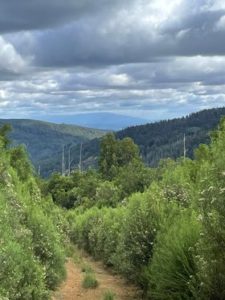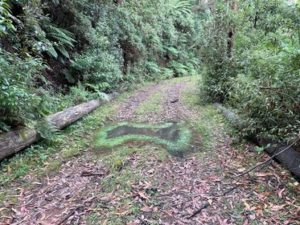 I followed the Old Yarram Balook Road and Forest Track to the Tarra Bulga NP Visitor Centre then onto Link Track and Telecom Track to Drysdale Road. The Drysdale Road and Goombala Road section was an absolute highlight with majestic views!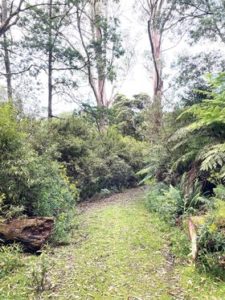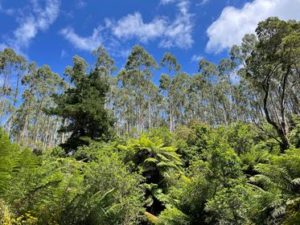 Such a delight and all this manic before reaching the pinnacle of this hike. Duncan's Track gets the heart rate up, but it is such a sweet and pretty track that I couldn't help but be overflowing with joy. Then it opened up onto the beautifully groomed Butlers Track to Great Forest Walk was just a slice of trail heaven. The single track section of Great Forest Walk back to the Tarra Valley Picnic Area Carpark was a lot of fun with the trail being a little tricky to find at times and a few gnarly little places but was great to do in the drier weather. Once I reached the Tarra Valley Picnic Area Carpark, it was back down Tarra Valley Road to Fernholme. That was 31km done, and what a stunning 31km it was.
Day 2 (Saturday) was a good day to test the wet weather gear.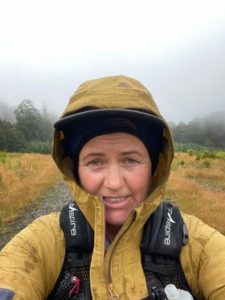 I parked at Tarra Falls along Tarra Valley Road and headed back up Diaper Track to Balook like day 1. The wet and windy weather had done no favours to Diaper Track and it was a mentally challenging hike up to keep sure footing on a very sludgy trail at times and trying to avoid the growth. I picked up some 'leechy' travellers despite my prep on the way, however they did not enjoy their salt bath at Balook. I donned the merino thermals and full waterproofs at Balook as the weather was pretty ordinary. Link Track and Telecom Track have held up to the rain better than Diaper Track.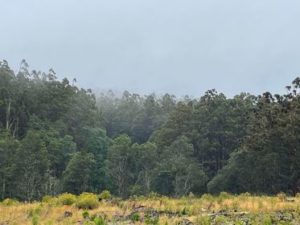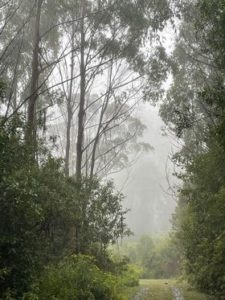 I took the short route out and back to Mount Tassie. Visibility was quite low, so I didn't linger too long and headed back to my car with 28km done and returned to Fernholme to dry out.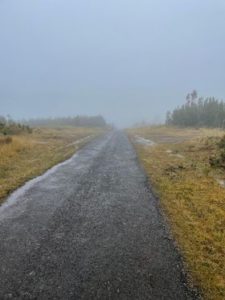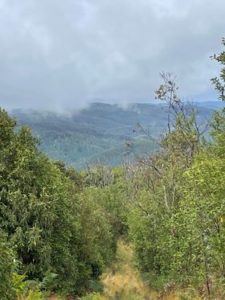 Day 3 (Sunday) was the Mount Tassie Loop but in reverse.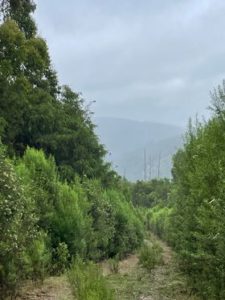 Again, the weather was quite lively in Tarra Valley as I left, but it was poor higher up at Balook. Hiking the Mount Tassie Loop in reverse, I followed Drysdale Road, West Face Track and Pine Trial Track and crossing over Traralgon-Balook Road to the short track up to Mount Tassie. The Mount Tassie Loop was terrific. I thoroughly enjoyed Drysdale Road and West Face Track with beautiful views and being protected from the weather. Again, atop Mount Tassie, it had very low visibility, but thankfully having done that section several times in good weather, I know how good the view is! I did not capture it on this trip.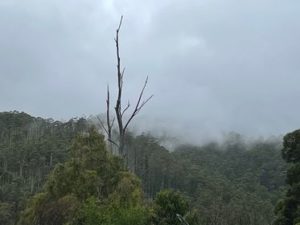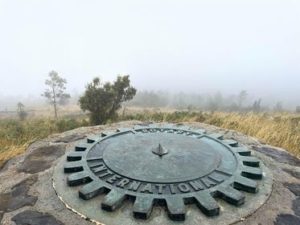 The weather was definitely clearing by the time I returned to Balook via Corrigan's Suspension Bridge. That was 17km done.
I do hope that maybe one day the tracks on the west section which traverses from Tarra-Bulga NP to Morwell NP will be able to reopen. I haven't explored any of that side yet and Dave at Fernholme assured me that it is pretty special. Also, I hope also to see the Wild Cherry Track on the Macks Creek Loop, then I can say I have done the east section.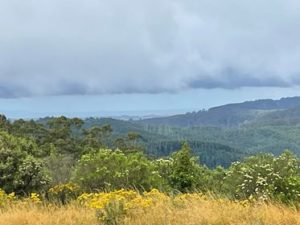 In my opinion, Mount Tassie Loop is the most accessible for those wanting a longer hike. Tarra Valley Loop is the most beautiful, noting that Diaper Track is pretty rough but passable right now, and that the lower section of Great Forest Walk is quite technical and requires some navigation. Interestingly, I did not see another hiker for the time I was on the Track but knew of a couple who were. Thanks so much to the Grand Strzelecki Track management group. I love coming to Tarra Valley and with the long hikes made available. It is such a special place.
Thank you Vanessa for sharing your experience.
Story and images with permission by Vanessa Jones.